Looking for some quirky wedding ideas for your special day? Let us take you through some of the fun, fabulous and simply magical ideas which could help inspire you.
Garden games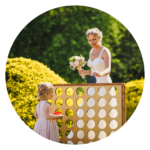 Whilst guests wait for you to finish with the wedding paparazzi, give them games to play with in the gardens. Everyone loves a game of giant Jenga with a glass of fizz!
Mirrored Tables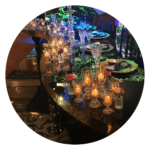 Forget table cloths and really make a statement with mirrored tables. The reflection of the lights, place settings and floral décor will look simply stunning.
Ribbon wands
Perfect for kids big and small, ribbon wands aren't only great fun, but also look beautiful in photographs.
Flower girl keepsake
Embroider a poem or a message into a linen napkin for your flower girl to keep for years to come.
Spruce up your bouquet
Step away from the traditional floral bouquet and swap them for alternative décor. Ideas can include broches, fruit, paper flowers made from your favourite book or feather fans.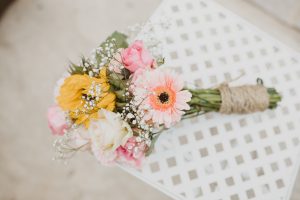 She's engaged
The morning of the wedding is a busy time for everyone. It's tempting for guests to contact the bride or groom for various reasons. As part of the wedding stationery, send out a 'she's engaged' message with an alternative telephone number so the bride can go about her morning.
Song lyric table names
Get your guests interacting and competing against other tables with a battle of the song lyrics. Make their table name a popular lyric and play a montage of songs. Every time their song comes up, they must stand up and sing-along. Great fun after a few fizzes.
Take away boxes
There can be a lot of food served at weddings, canapes to the wedding breakfast, sweets table to the wedding cake. Give guests a quirky wedding takeaway box so they can carry on the food journey when they get home.
Hangover keepsakes
If your wedding guests are a boozy bunch, a hangover survival kit is probably the best way to go when it comes to wedding favours. Practical and very funny.
Wedding creche
There are two sides to having children at a wedding. They have the cute factor, and your love for your friends and family's children is undeniable, however… they can also cause chaos. Hire someone in to entertain and look after the children so you and your loved ones can enjoy the night without responsibility.
Creative lighting
Fairy lights and uplighters are always a fabulous way to light up your wedding, but why not go one step further. Have laser lights and neon signs, think hanging faux candles like in Harry Potter or floating lighting if you're by a lake or pond.
Use your guests as florists
Encourage your guests to bring a stemmed flower with them to the ceremony. As you walk down the aisle, they hand the flower over to you to create your bouquet. Perfect if you don't have someone to walk you down the aisle.
(Wo)Man's best friend
If you have a fur-baby, bring them along. Chose a venue which accepts pets, so you can have them as your ring bearer or just as one of your VIP guests.
Comfortable dancing shoes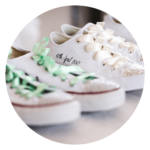 Kick off those heels and swap them for some dancing shoes. You could wear personalised converse, coloured flip flops or even just throw on your favourite slippers.
Lanterns over flowers
An alternative to floral décor could be lanterns. These can line your aisle or be your bouquet. If you're going to light them up, we would suggest battery candles.
Save a seat for a loved one
The sad side of weddings is if there is a special someone who can't be there to celebrate with you. This could be due to them not being with us anymore, or they may live too far away to travel. Save them a seat in your ceremony set up and place a little poem in remembrance.
Polaroid memories
Take a snapshot of your wonderful guests by setting up a polaroid camera table. Get each guest to take a photo of themselves and leave you a little note. The perfect way to build an album of memories to cherish.
Take a shot, and your seat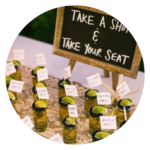 Get the party started with a table filled with your favourite shot. Leave a sign saying, 'Take a shot, and your seat'. A great way to loosen up your guests. We would suggest a kids friendly table for your little VIPs.
Beer barrow
During photo time, guests like to have a mingle and a drink. Keep it casual with a beer barrow in the gardens to go along with your glasses of fizz.
Floral drinks
Whilst we are talking drinks, why not add some décor to your welcome drinks. You can have edible flowers in your ice cubes, wild hibiscus in your champagne. Keep it floral and fun!
Floral chandeliers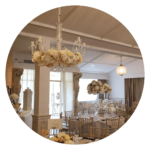 Floral chandeliers are a great statement feature for your wedding breakfast. Match them to your bouquet and it will really help decorate your room.
Go Pro evidence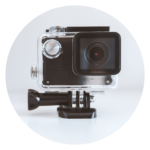 Want some evidence of wedding dancing and silly antics? Set up a GoPro in the corner of the room and enjoy it the next day when your head is slightly fragile.
Hooped bouquet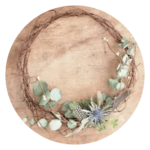 Hooped floral arrangements have been super popular this year, offering a real festival feel to a wedding. Perfect for outdoor ceremonies and can be hung up as part of the evening set up.
Pork pie cake
Not a sweet tooth? Swap your sponge for a pork pie cake. Chutneys and cheeses can decorate the edges, giving your guests the ultimate savoury treat.
Live cooking
Add a touch of drama with a live cooking session as your wedding breakfast. Entertaining for your guests and utterly delicious.
Succulent décor
You wedding décor doesn't have to be floral, you can use succulents for your table décor, on your cake and in your ceremony set up. Strong and edgy, they are the perfect wedding alternative.
Doors to your new life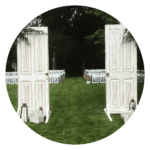 If you have decided to have an outdoor wedding, why not set up a pair of doors at the base of your aisle. These can be decorated and really takes the whole 'take indoors, outside' vibe to a new level.
Personalised aisle runner
Add some humour or magic to your aisle with a personalised runner. The design could include a personal quote, movie reference or pay homage to your favourite book. The ultimate way to start the beginning of your wedding journey.
Surround your loved ones around you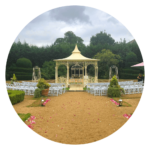 Create a circle for your ceremony set up, so you are surrounded by your loved ones. This will give everyone a better view and you will feel closer to the ones you love, literally.
Cinema room
Cinema rooms are great for youngsters who are done with wedding celebrations. You could have your favourite flicks playing whilst people are dancing the night away.
Beer bus
All aboard the beer bus! Companies around the UK offer a bus which has been adapted into a bar. This can park outside your venue, so your guests have somewhere different to have a beer or glass of wine. Plus, they are great for wedding photography.
Mr & Mrs
As it says on the tin, you and your other half sit in the middle of the dance floor with each of your shoes in each hand. A series of questions are called out and you answer using your shoe!
Get your geek on
Fan of the Star Wars films or a bit of a Potter nerd? Incorporate your favourite films into your wedding day. Think Light Sabers instead of confetti, an owl with your wedding bands…
Signature Cocktails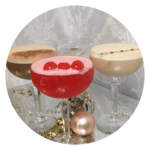 Create your own signature cocktail or take a classic and have it as the main welcome drink. This could be flavours that symbolise you as a couple or a particular drink that you both enjoy.
Singing waiters
Surprise your guests with a performance from the singing waiters. Within a couple minutes they can go from serving drinks to putting on the performance of the evening. Bringing so much atmosphere to your occasion.
Tasting sessions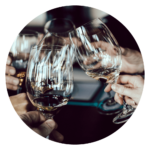 If you want something more than food and dancing, set up a tasting session for your guests. This could be cheese tasting, wine tasting or even gin tasting. Guests can take it in turns to go to the table set up and learn something new.
Flower girl with experience
Flower girls don't have to be children. If you are particularly close to your Nan or older relatives, why not treat them to a lovely dress and get them to lead the way down the aisle.
Wedding wheel of fortune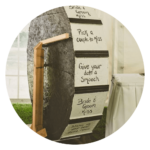 Humorous, fun and a little controversial, get guests mingling with the wheel of fortune. Great for dares, tasks and general silliness.
Waffle bar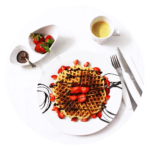 Add a sweet treat to your wedding menu and set up a waffle bar. A selection of delicious sauces, sprinkles and ice cream would be the perfect accompaniment to your table.
Wedding signage
Wedding signage can be useful and humorous. Add little notes, quotes and directions around your venue to really create an atmosphere.
Create your own confetti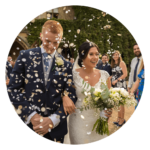 Set up a confetti bar so guests can create their own. If you're looking to save the pandas then offer them a paper cone to carry the confetti in, minimising use of plastic.
The ultimate newly-weds address book
Ask each of your guests to fill in their names and addresses on address cards so you can start married life with your nearest and dearest all in one box. This is also perfect for sending out thank you cards.
Wedding #
Everything is Insta worthy now, so why not set up your own wedding #. This can be useful for seeing what photos your friends and family have tagged your wedding in.
Letters to the Bride/groom
This is more of a suggestion for the Maid of Honour/Best Man as a lovely gift for the Bride/Groom. Get their nearest and dearest to write a little letter for the morning of the wedding. Include funny memories, words of wisdom and encouragement to really start their day off with all the love.
A cosy RSVP
In your invitation ask each of your guests to bring in a square of fabric. This could be personalised with a quote or just a simple pattern. These squares can then be sewn together to create a wedding blanket for cosy nights in.
Let your love glow
Celebrating your wedding with an evening filled with sparklers offers so much beauty and fun. It's perfect for winter weddings where the nights draw in earlier.
Personality filled cake
On the one side you could have a traditional wedding cake, but as you move around the design then reveals a much quirkier design. This could incorporate you favourite sports team, movie or even childhood toy.
As you say your vows and gaze lovingly into your other half's eyes, surrounded by your friends and family, have an artist at the back drawing the ceremony. This can be done in water colour, chalk or even charcoal to beautifully catch the moment.
Talk to our team today on 01394 385 678 or weddings@seckford.co.uk to go through any ideas or gain inspiration for your wedding day.