When arranging a corporate event, the venue you select represents your business. Choose a room with plain, clinical decor, and expect an impersonal, rigid response from delegates on the day.
On the other hand, you can opt to work with a venue that offers specialist, bespoke boardroom packages. No two businesses are the same, your agendas will never identically align, your needs on the day will certainly remain unique.
The key is to choose a venue that appreciates the idiosyncrasies of your enterprise. A venue such as Seckford Hall.
One size does not fit all at Seckford Hall
No matter how you dress it up, one size certainly doesn't fit all for business conferences and meetings. Rooms should be carefully selected and prepared, as required, specifically for the number of registered attendees. Such little details make all the difference, adding a personal touch to the professionalism of the day.
Rather than offering a single meeting room facility, Seckford Hall boasts three conference areas. The hotel understands the importance of providing rooms to meet your every requirement.
Each ideal for different corporate events, businesses can choose to occupy The Boardroom, The Mulberry Suite, or The Lakeside Suite of Seckford Hall. All offer fast, complimentary internet capabilities, after all where would be today without WiFi?
The practical, yet luxurious facilities at Seckford Hall have been created for optimum delegate comfort. All feature elegant decor, complete with sleek furnishings and statement adornments. Surrounded by the hotel's truly serene grounds, the rooms provide a quiet, peaceful environment, promoting productive corporate events.
But which is right for your business event? Of course, staff at Seckford Hall would be more than happy to advise, based on your requirements. But, let's take a closer look at what each of the three offer.
The Boardroom
The Boardroom is the smallest of the three conference rooms. Seating up to 14 delegates, it is ideal for intimate board meetings, interviews, and small-scale team training days.
With private doors leading out onto the hotel's exquisite gardens, attendees can make the most of the indoor and outdoor space, as well as Seckford's stylish new lounge area, which is situated adjacent to The Boardroom.
Keeping those corporate creature comforts in mind, the room is fully air conditioned, and includes state of the art audio-visual and presentation equipment, not to mention those all-important tea and coffee making facilities.
The Mulberry Suite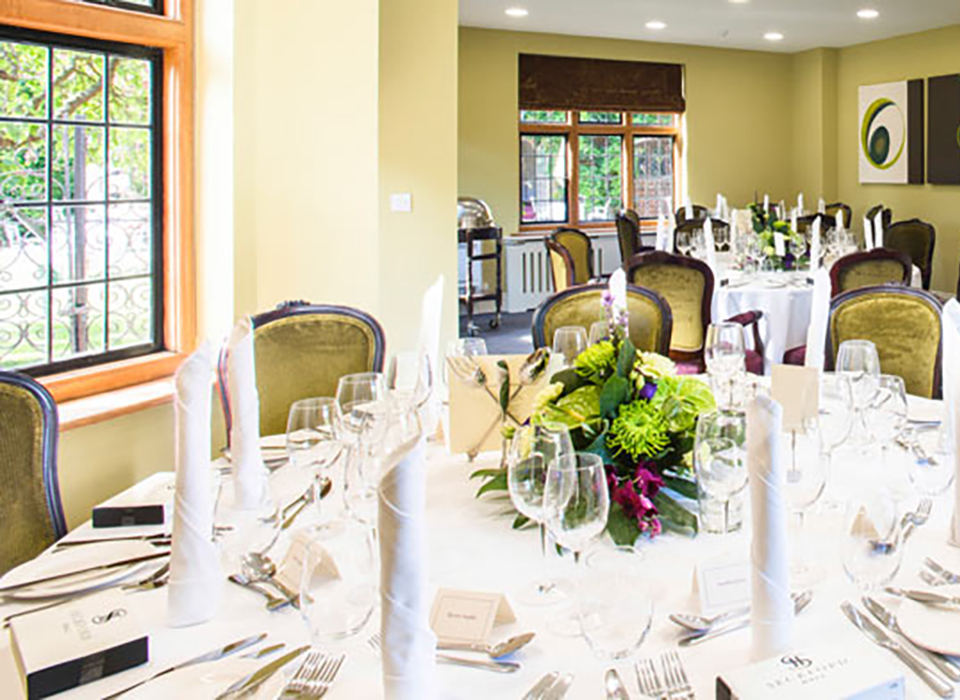 Seating up to 40 delegates, the Mulberry Suite is located in the new Easy Wing of the hotel.
It is perfectly versatile, ideal for corporate dinner conferences and team training sessions. As well as use of the vast, beautiful gardens, an executive function menu is available in the suite.
Treat your delegates to a deluxe day away from the office.
The Lakeside Suite
Overlooking the hotel's gardens and lake, built from old bricks and English oak, the Lakeside Great Hall is simply a stunning setting for your corporate event. Accommodating up to 120 delegates, the room can be transformed to achieve myriad seating plans for large-scale events.
Equipped with a full range of audio-visual equipment, direct dial telephone, fax, and photocopying facilities, every work-related whim has be pre-empted and addressed.
Day delegate and 24 hour delegate rates are available upon request. Contact the Events Team on 01394 385678 or email [email protected] for more information.