Getting married in 2018?
This is one hot trend that you'll definitely want to hear about!
With ultraviolet being declared 'The Pantone Colour of the Year' we're seeing some very creative ways to incorporate this hue into your big day.
From subtle florals and stationery items to bolder statements for bridalwear there is something for everyone wanting to embrace this popular purple palette.
And to make life a little easier we've created a list of the best ways to use this fabulous colour in every aspect of your wedding.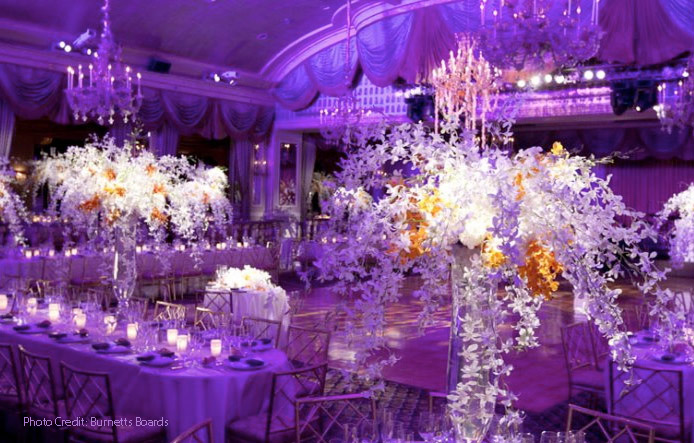 Twists on Tradition
If you feel like mixing tradition with trend, then the adage of wearing 'something blue' could easily be exchanged for something purple!
Whilst blue is characteristic of purity and love, choosing to wear purple symbolizes devotion, ambition and creativity…a sweet way to express your feelings towards your exciting journey together as a newly married couple and your hopes and dreams for the future.
Maybe purple is one of your favourite colours? Then this is the perfect excuse to throw caution to the wind and go all out with a bright and vibrant wedding gown in the violet hue of your choice!
Alternatively, if this seems like a step too far away from a traditional white or ivory gown then why not play around with some bold fashion accessories to incorporate the colour into your day. 
This could easily be achieved with the addition of simple but striking hair accessories or jewellery adorned with regal purple gemstones. 
For a more subtle but fun idea why not opt for a glossy purple manicure for the big day…. whatever your style this vibrant and playful palette will certainly allow your imagination to run wild!
default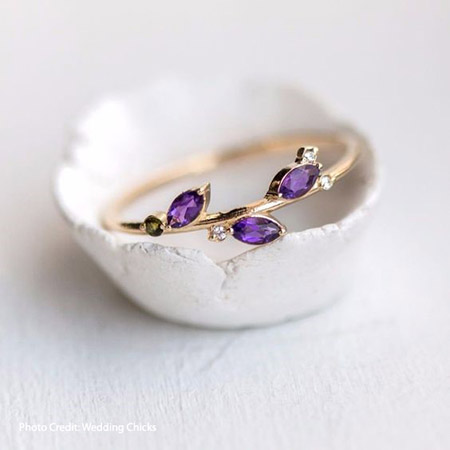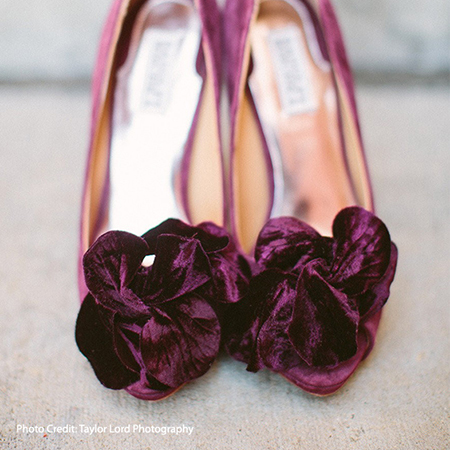 Playful Cocktails
With ultraviolet representing experimentation and creativity there is some fun to be had with cocktails using this vibrant colour which will add a unique twist to your welcome drink whatever the season.
We love the Aviation cocktail with it's refreshing palette of gin, lemon juice, Crème de Violette, maraschino liqueur and syrup, it's perfect for any summer wedding.
For those who like something a little more classic you can't go wrong with a simple champagne cocktail. Give it a modern twist with the addition of seasonal plum for a delicate sweetness and subtle colour change!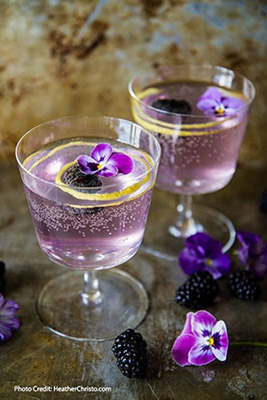 center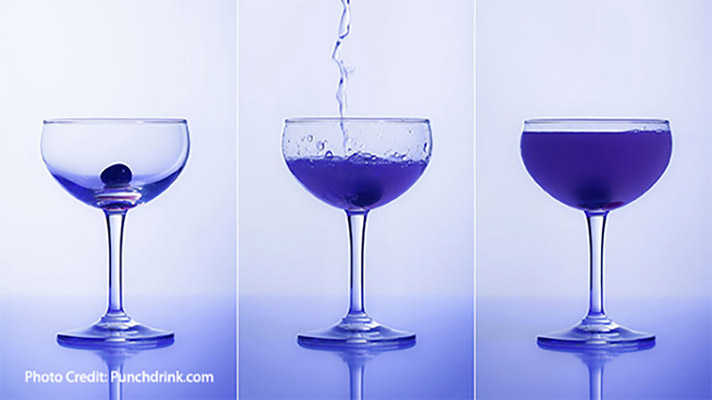 Show Stopping Tables
This beautiful colour palette is perfect for dramatic centrepieces, combining richly pigmented purple blooms with interesting trinkets that will add character and depth to your tables.
Glamorous floral designs incorporating roses and geometric ornaments with flowing fabrics, rich velvet ribbons and gems will create a bold statement for your centrepieces. 
For a simpler effect, subtle arrangements of succulents with violet tones and small votive candles clustered around planters and low vases offer a more delicate way to add interest to your tables.
Incorporate a splash of violet into table settings by pairing coloured napkins with metallic charger plates for instant glamour (copper and bronze are popular this season).
Alternatively, a selection of patterned china with an eclectic mix of coloured glass can add vintage charm to any table setting.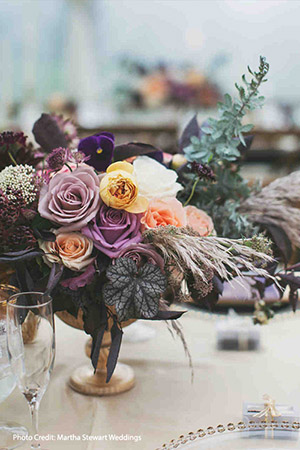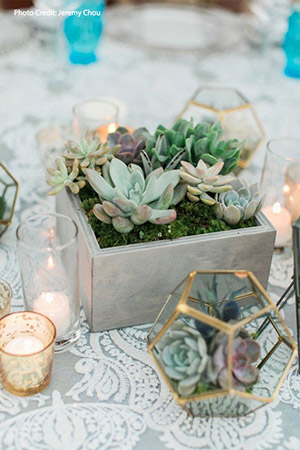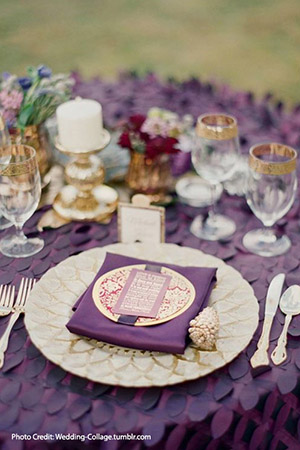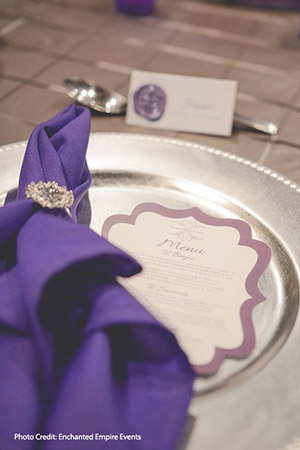 Bride Tribe
As we know, the colour purple is associated with feelings of calmness so what better way to combat any pre-wedding jitters than by surrounding yourself with a tribe of bridesmaids or groomsmen kitted out in purple dresses or suits.
Texture, detailing and elegant silhouettes are on the cards this season with luxurious purple velvet taking centre stage. 
Lace detailing, layers and ruffles will be a popular choice for any summer weddings and lavender and violet hues will make for some truly stunning photographs when set against a backdrop of summer greenery and foliage.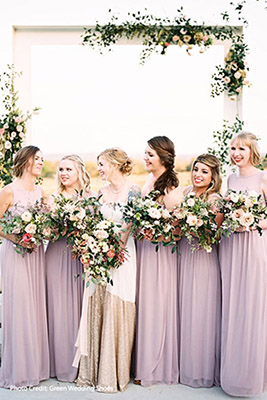 center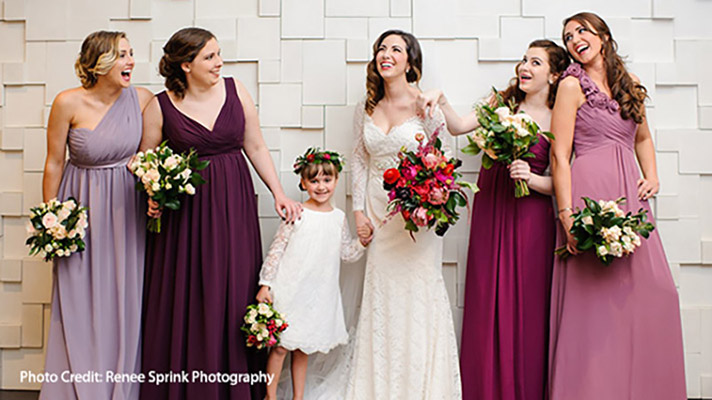 Inspirational Invitations
Purple has long had regal associations and with the Royal Wedding taking place later this year it's the prefect hue to use for inspirational invitations.
The finer details of wedding plans are often a closely guarded secret between the couple and wedding party, but the invitations offer a sneak preview into the chosen colour palette and theming for the day.
Pair bold purple seasonal floral illustrations with gold brush strokes, calligraphy and metallic envelopes for a feeling of luxe or opt for a more delicate design of violet, floral borders that remain elegant and stylish yet still promote a sense of luxury, excitement and anticipation amongst the guests.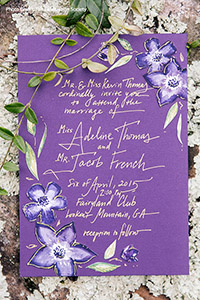 center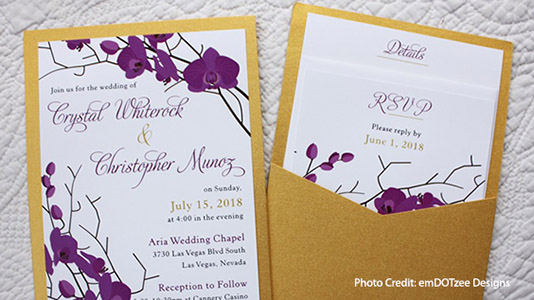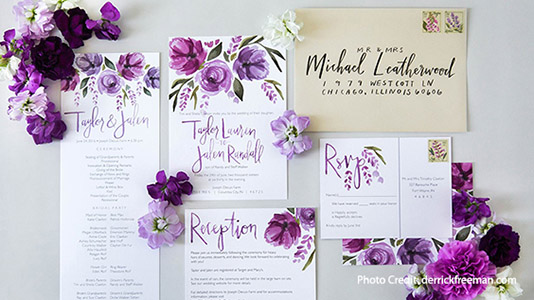 The Wedding Cake
The 2018 wedding cake trends are finally here, and they were absolutely worth the wait!
If a single wedding cake doesn't seem like enough then you're in luck as the dessert table also remains a deliciously popular choice both aesthetically and functionally, giving guests options and providing a stunning statement piece for your reception decor.
A growing trend is the stylish marble cake which pairs perfectly with the calming qualities of purple – we especially love the stunning Geode cake with the added detailing of crystallised sugar to create a beautiful contrast to the flawlessly smooth, cool marble stone effect.
 We are seeing a lot of Celestial designs this year which works perfectly with our trending colour and means that the creative possibilities are endless with everything from cupcakes, tarts and individual desserts being topped with delicate violet stars, gold flecks and textured icing.
Whatever your theme may be, the wedding cake remains a central part of your décor and with the option for a dessert table you have even more options to play with your theme and keep your guests satisfied at the same time!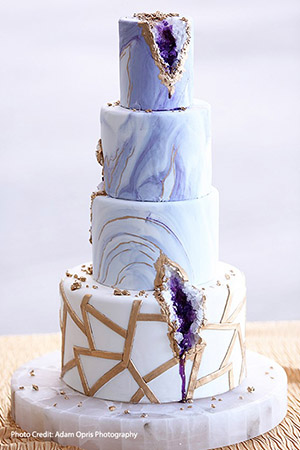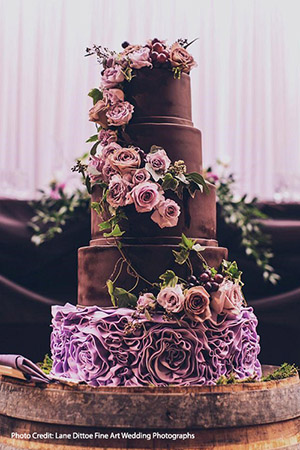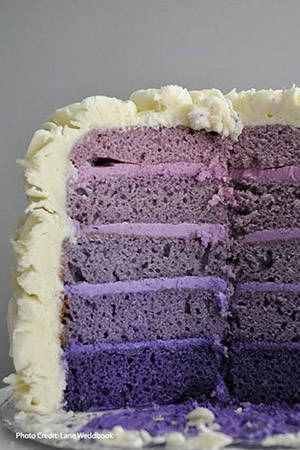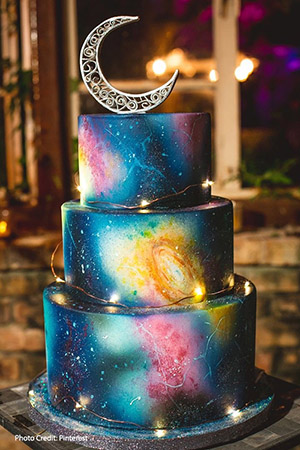 Floral Trends
This colour trend also brings with it some wonderful options when it comes to choosing the flowers for your wedding!
Some of our favourites include calla lilies, dahlias, anemones, orchids and hydrangeas so whether you decide on a bold posy full of purple and violet hues or some bright accents woven through a neutral bouquet of your favourite blooms, there really is something for everyone.
For those looking for a boho-festival style why not pick a looser more relaxed arrangement of lilac, hellebore and peonies.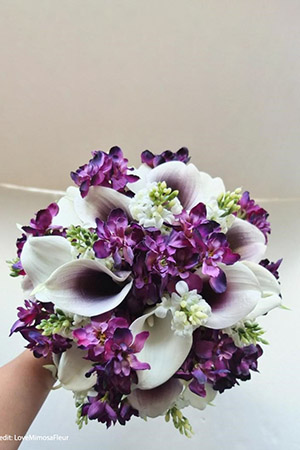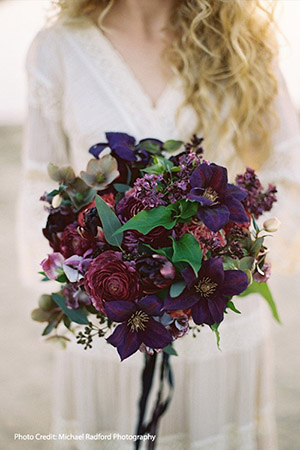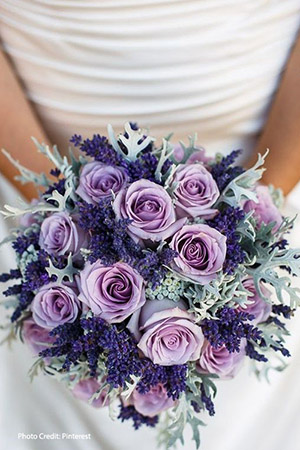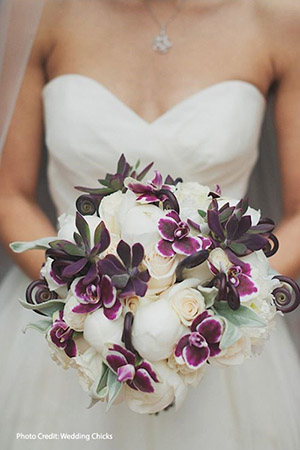 Whatever your style, giving your wedding a beautiful colour theme really brings the day to life and will make your album of memories truly indivdual, there's so much scope to do something spectacular.
If you need more inspiration, why not call one of our team to discuss your ideas and ask about our planning essentials collections that can bring your theme to life.
Email [email protected].