When it comes to planning your wedding, size is probably one of the most significant factors to think about.
You may have imagined a huge celebration with hundreds of your friends and family, mountains of flowers, and a wedding cake large enough to feed a village. However, when it comes down to it, the stress and cost that come with a large wedding can take a toll. There are many great advantages to keeping your celebration small and intimate and we've listed a few reasons that just might convince you!
Budget Friendly
A small wedding often means a smaller budget. Most weddings are broken down by cost-per-guest and the shorter the guest list the lower the final cost. A larger guest list may mean that you have to cut corners and opt for something more cost-friendly. Saving money from the venue to the food, can mean you are able to invest more in the details of the day.
default
Stress-Less
With larger weddings, it's often much more difficult to find wedding vendors who are able to fulfil your needs. Catering companies and venues may become overwhelmed with the capacity and there's almost always the chance that your guest list will grow by a percentage or two as the day nears closer. A few extra guests will be easy to accommodate if the numbers are on the lower end.
Splurge on the details
If you have dreams of a designer wedding gown and a gourmet five-course menu, a smaller guest list will allow you to splurge on the details that really matter to you. Go ahead and invest in those fabulous extravagant gold leaf centrepieces you have your eyes on…with a smaller wedding you can have your cake and eat it too!
Show your guests some love
The day you tie the knot is a once-in-a-lifetime experience where you will make memories you will cherish forever. An intimate wedding reception will allow you to surround yourself with only your closest friend and family. Does your twice removed cousin who you've only met once necessarily need to be invited? The answer is probably a no. With a smaller crowd, you will be able to spend time and engage with each and every guest which is often not the case with larger celebrations. Those who are invited will feel extra special and appreciate the invite that much more.
The After-Party
If you can't whittle your guest list down, as a compromise, why not try hosting an after-party! Many couples opt to host an intimate ceremony and dinner, whilst throwing a larger celebration for the wedding reception. This way you can have the best of both worlds without having to sacrifice on the details.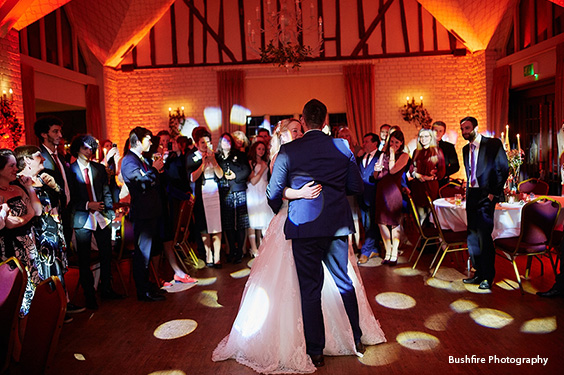 Seckford Hall Hotel can accommodate up to 160 guests for a marquee wedding reception in a luxurious setting. The marquee is located on the terrace overlooking the manicured lawn, weeping willow trees and the ornamental lake. 
For larger guest number options and to discuss your wedding plans please contact our team of expert wedding coordinators on 01394 385678 or email weddings@seckford.co.uk.