Trends for Winter weddings 2023 are so beautiful, creative and exciting, from glistening decor to fabulous fabrics. Join us in a winter wonderland and just picture what could be of your special day.
Add pets to your guest list
We have seen a huge rise in people having pets at their wedding from having their dog as part of their ceremony to alpaca's walking the bride down the aisle or why not theme this and incorporate an alternative winter animal as part of your day.
You could have a beautiful wise owl swoosh down the aisle, a Shetland pony in the gardens or even a reindeer! (if you ask Santa nicely).
There are a few things to think of when adding such beautiful creatures to your guest list. Firstly, check with your venue. Here Seckford Hall we allow animals on the grounds, others may not. Secondly, make sure you hire from an animal friendly place, where they are cared for and supervised properly.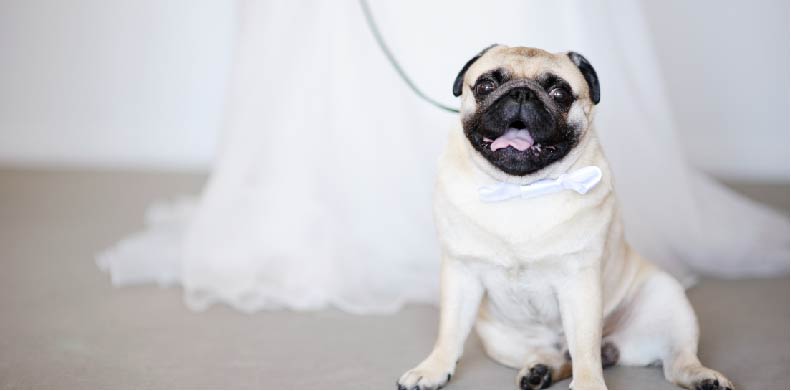 Chill out and warm up at the Drink/Food stands
Drink carts and stands are unbelievably popular this year, but we think we have just seen the tip of the iceberg… (love a winter pun!).
Allow your guests to create their own wintry drinks by offering a dedicated cart. This can be a build your own hot chocolate cart, to a stand dedicated to mulled drinks.
Get as creative and inventive as you like by creating a whole array of drinks.
We love the idea of a Mulled Selection Cart offering mulled wine, cider and cranberry juice. You could even add some pear brandy or warming whisky to your mulled wine to create different flavours. The smell would be glorious!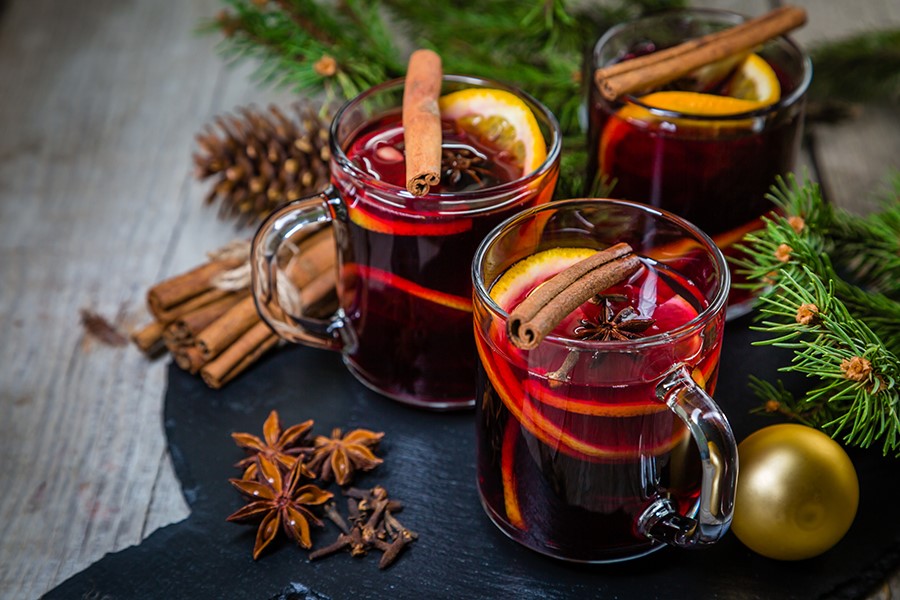 Credit: Busy Lizzy Creations
Pashmina Cosy Covers
There is so much you can do with some woolly essentials. Use blankets as chair décor or offer gloves and slippers as favours.
Hot water bottles are also a great way to treat your guests with a cute or quirky caption to show them how warm and fuzzy they make you feel.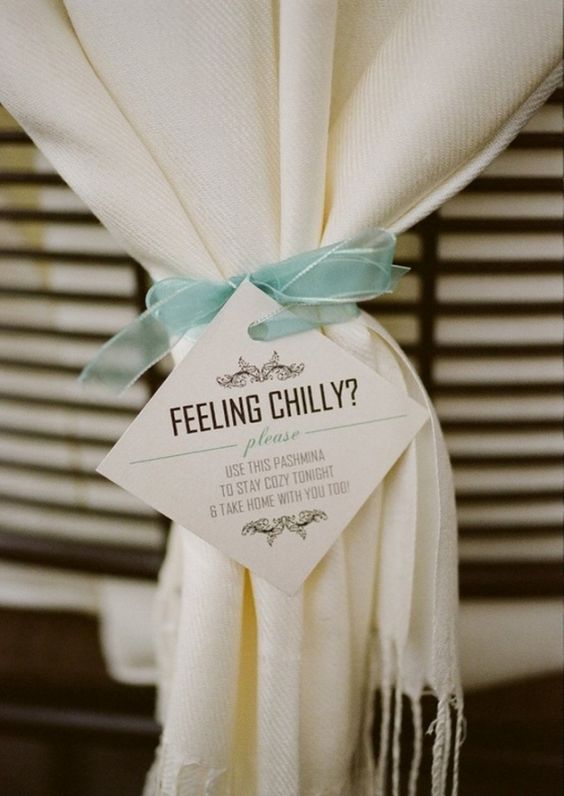 Forrero Rochers for everything!
These delicious balls of nutty, chocolatey goodness are the perfect accompaniment to your wedding party.
Build a tower of Forrero Rochers for your wedding cake, use them as place card holders or even just add three in a little case as affordable delicious guest's favour. Their casing is even so classy, you could use them to decorate your tables (always check your guests for nut allergies).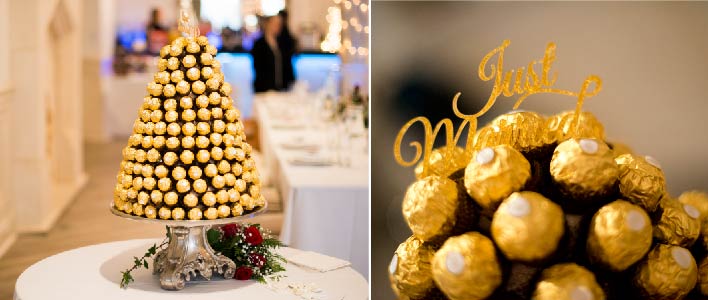 Create wood inspired decoration
Bring the outside in with various wooden accessories. These can be decorated to suit your colours scheme and adds so much beautiful texture to the look and feel of your wedding.
Wooden tree stumps painted in glitter are a great idea for a cake stand, or a base for your centre piece, you could even use smaller versions for table numbers.
One trend we can see becoming very popular for winter 2019 is the use of wooden crates. Use these to hold flowers, your little wedding extras or even for storing your presents.
This rustic look is attractive, yet useful. The perfect addition to your wedding décor.
Credit: Bushfire Photography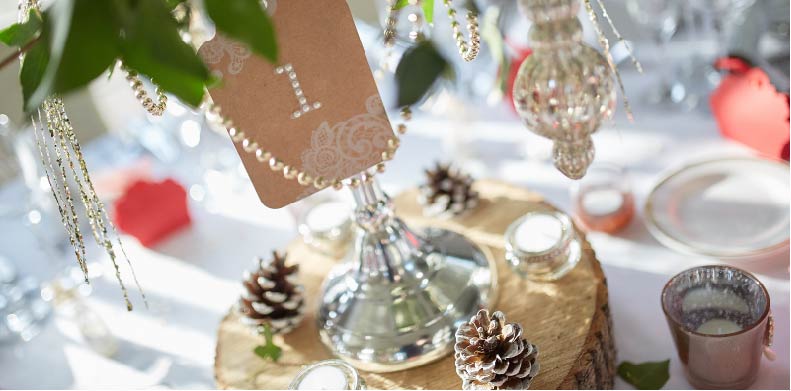 http://www.bushfirephotography.co.uk/
Candles, candles and more candles
As winter flowers aren't as readily available as those in spring/summer the use of alternative décor is popular during winter weddings.
Candles set the mood and add so much romance to a room. For those with small children or with safety concerns we would suggest using battery powered lights during a wedding… just in case.
Props for photographs
Here at Seckford we take the gloriously unpredictable British weather and use it to your advantage.
If it rains, we provide our big white umbrellas for dancing in the rain photoshoots. If it snows, we encourage romantic photographs of the newlyweds in that gorgeous winter snowscape.
Couples can add their own winter twist on their photographs by bringing their own props. We love the idea of having blankets, wellington boots, earmuffs, reindeer horns as part of your pics, you could even build a snowman or snow bride!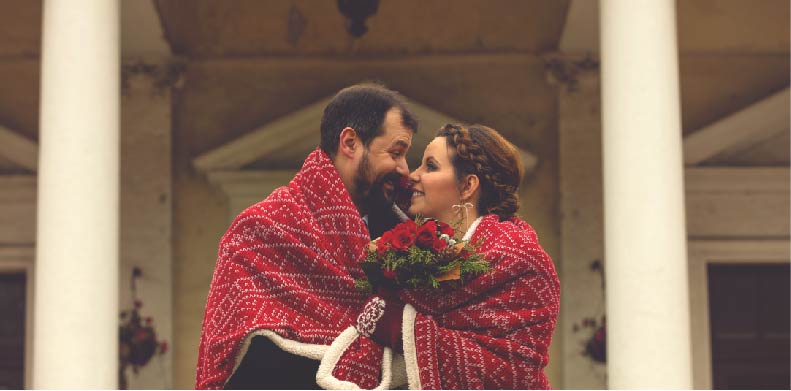 Fairy lights setting the scene
With winter comes earlier nights, which means you get to enjoy the full beauty of twinkling lights. Here at Seckford Hall we have various lighting opportunities available for you to choose from. Why not create a statement using our LOVE letters indoors or outdoors, they look fantastic.
Add some ambience using our fairy lights, or create a statement using our LOVE letters.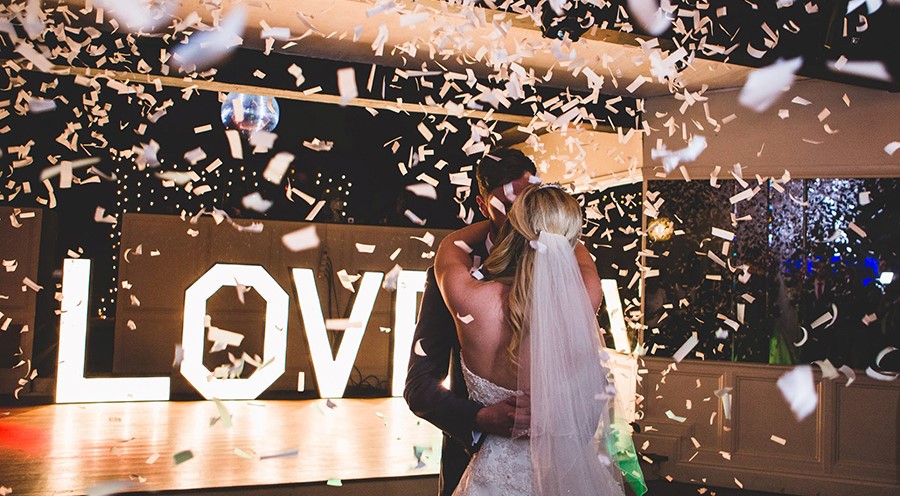 Green is the colour of 2019
Once the Royal Wedding was announced, we knew there would be a new waive of trends to follow through future weddings.
Their simple use of white and shades of green created the most striking wedding photos and we can see this being huge in 2023!
This isn't just limited to green however, the use of single colour bouquets are set to rise, offering bold statements in the flower arrangements. Whatever your choice of hue.
Flower circles /frames
The use of flower circles and frames have been huge this year, providing couples with gorgeous backgrounds for their ceremonies and photography.
Think of these beautiful frames and add elements of holly, ivy and pine cones, how stunning would that be!
These are obviously just a few winter wedding ideas you could use for your upcoming nuptials. So why not think outside the box and book a winter wedding for 2023, so you can start the new year as newlyweds.
Talk through your creative ideas with our wedding team and see what fabulous ideas they can offer for your upcoming winter extravaganza. Call today on 01394 385 678 or fill in our contact form here.