We are looking forward to all the beautiful weddings coming up this year and our cravings for all those wedding breakfasts and canapés are really kicking in.
When it comes to planning a wedding, catering for your guests and all their different dietary requirements can become one of the most expensive and complicated parts of organising your big day.
Get the lowdown on what we'll be eating and drinking at weddings this year.
Vegan Wedding Food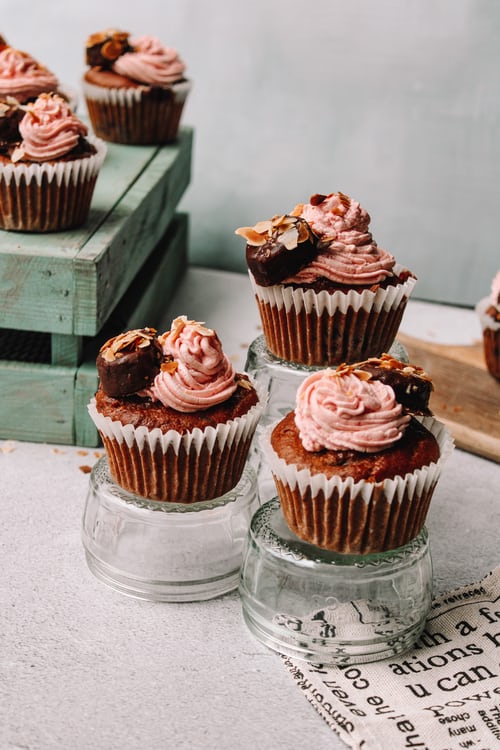 Veganism is definitely up there when it comes to wedding food trends. It is becoming increasingly popular year after year.
If you already follow a vegan diet, you should have a good idea of what to avoid. If it's a fairly new thing for you, things to watch out for are meat and poultry, fish and seafood, dairy, eggs and bee products, including honey, bee pollen and royal jelly.
Why not opt for a vegan wedding cake?
Welcome Cocktails & Mocktails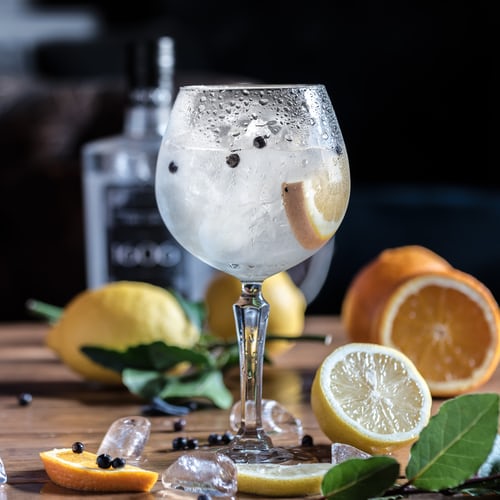 When it comes to big-day beverages, the appetite for gin is not going anywhere with the rise of build-your-own-G&T stations and help-yourself cocktail bars. Offering a variety of mixers and basic 'ice and a slice' alternatives – pink grapefruit, cinnamon sticks and even peppercorns.
Ever considered a champagne cocktail? This cocktail is a brilliant alternative to straight fizz. You can mask the original flavour and even get away with using sparkling wine, too.
Non-alcoholic mocktails are also great for those non-drinkers, designated drivers, or under-age guests. Seedlip is one of the best chosen alcohol-free alternative to gin is becoming an increasing popular party drink or you can mix up big batches of fruity alcohol-free cocktails in a serve-yourself drinks station.
Crowd-Pleasing Canapés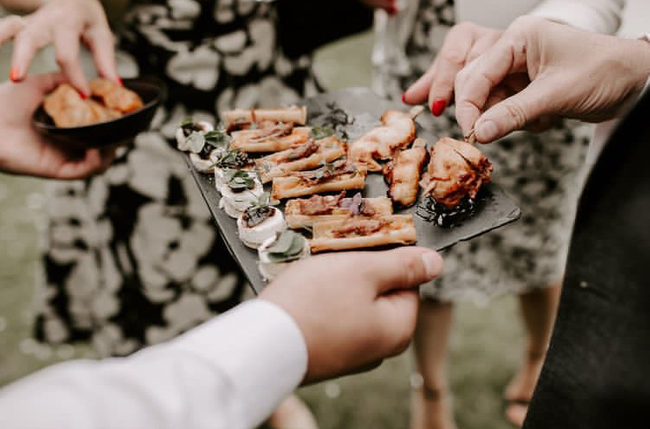 You can't beat a classic canapé when it comes to your evening wedding reception. Most couples will always like to have at least one crowd-pleaser on the menu, such as Pork Belly, Mini Yorkshire puddings with Beef, a classic Salmon Blini or opt for a vegan option like mini vegan sausage rolls.
Alternatively, for more extravagant canapés or to surprise your guests, why not opt for Yakitori Chicken or swap your canapés for a whole leg of Parma Ham to be carved and served with Manchengo Cheese. If you're opting for a vegan wedding, this is your chance to show your guests just how tasty vegan food can be!
Wedding Cake Ideas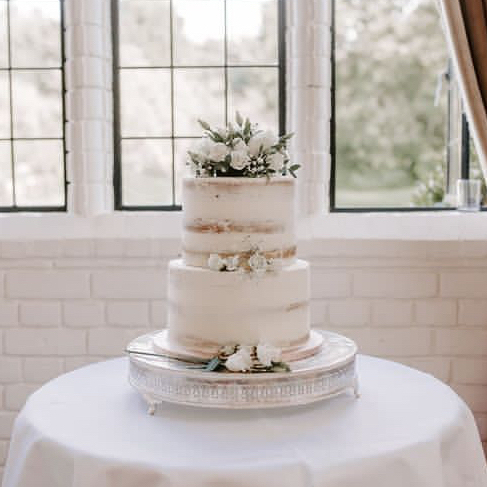 What we have seen from wedding cake industry in recent years is that cakes are getting small, unique in versatile ways. Creative cake designers are having fun reinventing and incorporating all kinds of new shapes, colors, patterns, and materials to meet the personalised unique cake demands of new couples.
For anyone hosting a boho wedding, floral cake decor is stunning and can be simple or extravagant. It's a cake design we love and paired with a naked cake style it looks beautifully rustic!
Looking for something different? No problem! There are various alternatives to a wedding cake, why not opt for a cheese cake, cupcakes or a doughnut tower, taking a step away from a traditional wedding cake is increasing in popularity as there's no need to cut the cake into portions for everybody.
Locally made cake or locally sourced ingredients are going to be a significant trend for 2022 as 'shop local' has grown in popularity over the last couple of years. To make your cake more eco-friendly, decorate or fill it with seasonal fruits. If you're getting married in early summer, strawberries are usually in, or maybe its local apples and cider in the fall. Point these ingredients out to your guests, it will give the local businesses a boost and your friends will feel good knowing they are eating local!
4 and 5-course meals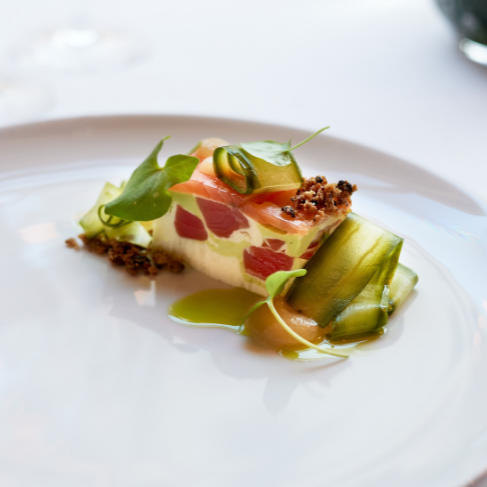 Couples are clearly wanting to spend more time at the table with their loved ones as the popularity of longer dinners services is growing. Forget a classic 3-course meal and why not opt for 5-courses instead? This is great if you're a foodie and want to share your favourite flavours with your guests.
A 5-course dinner menu classicly includes an hors d'oeuvre, appetizer, salad, main course, and dessert. But you can mix this up to be personal to you if you'd prefer!
This sounds delicious, however, you must remember that this would make your wedding more expensive. Especially as not everyone can eat the same food so you may also need to pay for vegetarian, vegan or gluten-free options.
Late night snacks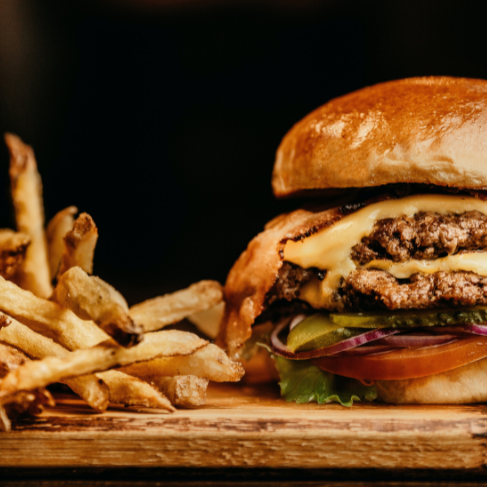 We're seeing late nights bites becoming more popular as guests head towards the end of the wedding reception. It's a perfect time to serve your guests something tasty as they've most likely danced off the meal they ate earlier and you don't want to send them to bed hungry!
Our favourite choices for late-night snacks are burgers, hot dogs, slices of pizza or chips. If you want to serve some sweet food that's always a great idea too, get the wedding cake out or offer a sweetie bar for the kids to enjoy.
Seckford Hall, is already taking bookings for next year and their dedicated wedding team will be able to help you plan your special day.
Call us today or email to book your date and start planning your wedding.