No one wants their guests to be bored at their wedding – it is the happiest day of your life, after all. The day is all about the wedding couple, which is why Seckford Hall only hold one wedding per day, so you can spice up your wedding decor however you like. The only limit is your imagination, so get creative!
Looking for some unique wedding ideas for your big day? Let us take you through some of the fun, fabulous and quirky wedding ideas which could help inspire you, from fabulous wedding favours and cracking cocktails to a lovely flower bouquet and personalised tables.
1. Garden Games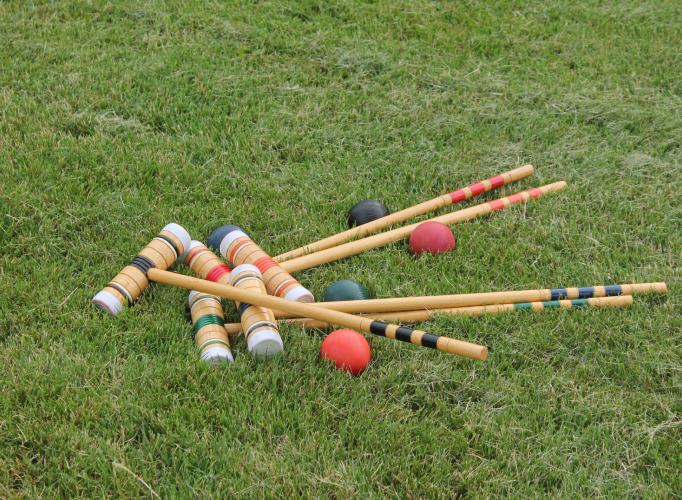 Whilst friends and family wait for you to finish with the wedding paparazzi, give them some fun games to play with in the gardens. If there's going to be an abundance of little ones at your wedding you could opt for a play area or extra room where the children can play and relax while you have your perfect wedding day. The whole family will love a game of giant Jenga with a glass of fizz!
2. A Themed Wedding
If you and your other half are particularly passionate about something, you could opt for a wedding with a custom theme personalised to your tastes. If you're a big fan of fantasy you could choose a wedding cake, bouquet or decorations that are fairy or castle themed.
Alternatively, if there is a specific television series or location that has a lot of sentimental value to you and your partner, you could choose a theme that pays homage to that. Maybe you're into Disney movies and want wedding cake toppers of you and your partner dressed as characters, or maybe you could give your guests a cocktail or favour with a Marvel or Star Wars theme.
We love the opportunity to host themed weddings and we are happy to accommodate almost any theme you like, so get creative! The possibilities here are virtually endless!
3. Song Lyric Table Names
Get your guests interacting and competing against other tables with a battle of the song lyrics. Make each table name a popular lyric and play a montage of songs – get creative and make your own playlist to dance to! Every time their table's song comes up, they must stand up and sing-along.
Or, if you'd like a bit more unpredictable fun, assign table numbers and corresponding numbers to the songs. When a song comes on, call out the song number and get the tables to join in, and maybe give a small prize to your favourite tables' performance! Great fun after a few glasses of champagne.
4. Take Away Boxes
There is a lot of food served at weddings, from the canapes and wedding breakfast to the sweets cart and wedding cake. To avoid any of it going to waste, why not give your guests a wedding takeaway box? This box could come with some extra tidbits too, like extra wedding favours, polaroid pictures from the day, or even bits of the decor like flowers. The possibilities here are limitless, so get going on that DIY!
5. Hangover Keepsakes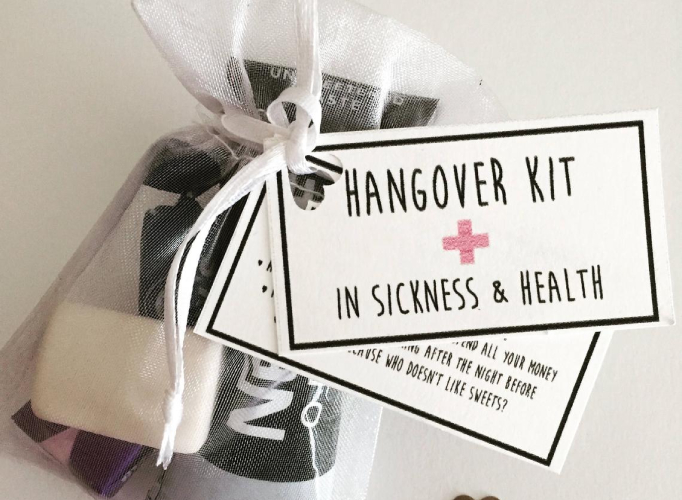 If your wedding guests are a boozy bunch, a hangover survival kit is a good idea for your wedding favours. Include a couple of polaroid pictures of them dancing the night away while they've had one too many cocktails for the best results. Practical and very funny, not to mention a keepsake from the fabulous day!
This is a great wedding hangover kit from Etsy!
6. Creative Lighting
Fairy lights and uplighters are always one of our favourite ways to light up your wedding venue, but why not go one step further? Think about including laser lights and neon signs, or hanging faux candles above tables like in Harry Potter. Go one step further with floating lights around our lake – you can really make it unique.
7. Lanterns Over Flowers
An alternative to floral décor could be lanterns. These can line your aisle and look beautiful until the end of the night. If you're going to light them up, we would suggest battery candles to avoid any accidents!
8. Polaroid Memories
Take a snapshot of your wonderful guests by setting up a polaroid camera table. Polaroids are great as they allow for quick and easy photography so that you'll be able to share the memories with people who you might not see very often.
Encourage each guest to take a photo of themselves and leave you a little note. You can put these in a unique personalised wedding album or frame so you'll never forget the memories you make with everyone. A quick alternative to this is a photo booth – just sit inside and snap some pictures with your loved one.
9. Beer Barrow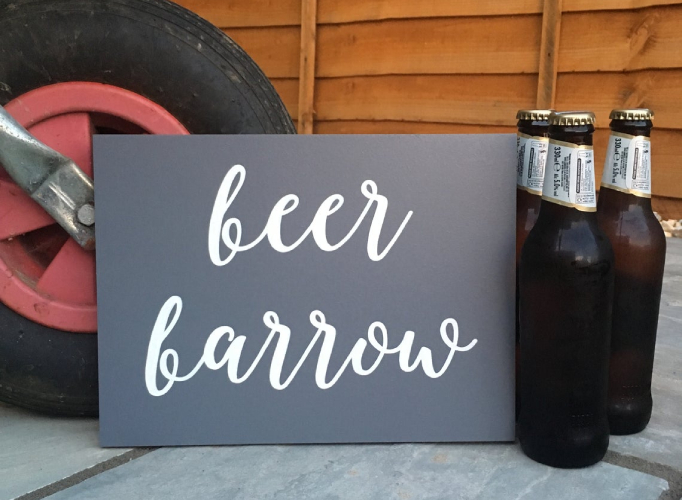 During photo time, guests like to have a mingle and a drink. Keep it casual with a beer barrow, your own bar in the gardens to go along with your glasses of fizz and cocktail. A custom selection of drinks is a unique way to keep people entertained – like a drinks tasting, but with a full bottle. Sounds good to us!
You can find some great beer barrow signs on etsy!
10. Hooped Bouquet
Hooped floral arrangements have been super popular with many a couples this year, offering a real festival feel to a wedding. Not only are they perfect for outdoor ceremonies, but they can also be hung up as part of the evening set up. You can have unique flower bouquets personalised for the wedding party, but make sure to think about the season you are marrying to ensure the flowers suit.
11. Flowers, Flowers Everywhere
At Seckford we believe you can never have too many flowers, so put them everywhere! In the bouquet, on the tables, down the aisle, everywhere you can. If you really love the floral style, think about including some in your clothing. There are many bridal hairstyles featuring a flower and many grooms are adorning their suits with a simple flower to add some flair to their outfit.
12. A Unique Keepsake
You're going to want something that the guests can remember your wedding by forever – whether it's a menu of all your unique cocktails and how to make them, a cute wedding favour, or maybe even hire an artist to paint aspects of the day.
Once you recieve the art, pic your favourite and send it with a thank-you card to remind everyone of your big day. You can really think outside the box on this one and give your guests anything you want. You may even give them some inspiration for their own future wedding day.
13. Signature Cocktails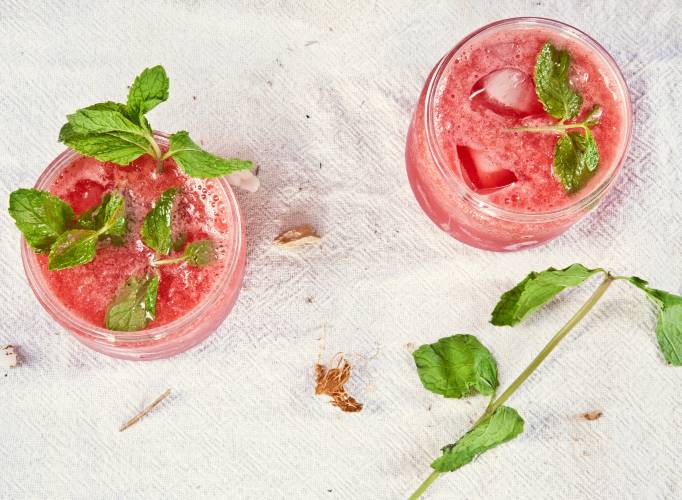 Create your own signature cocktail or take a classic and have it as the main welcome drink. This could be flavours that symbolise you as a couple or a particular drink that you both enjoy. You can practice this before your big day so that you can find the perfect concoction to use at your wedding party. We've compiled a few of our favourite recipes to make at home to help inspire your choices!
14. Tasting Sessions
If you want something more than food and dancing, set up a tasting session for your guests. This could be cheese tasting, wine tasting or even gin tasting. It's a great opportunity for some funny and memorable photos,too.
Here at Seckford, our expert chefs are happy to provide you with quality food and drink directly to your table. Guests can take it in turns to go to the table set up and learn something new. These aren't just limited to weddings either – they work wonders at a hen or stag party too!
15. Waffle Bar
Add a sweet treat to your wedding menu and set up a waffle bar. A selection of delicious sauces, sprinkles and ice cream would be the perfect accompaniment to your table. It goes great with a cocktail after the main event and offers a taste you can't forget. Why not get a personalised waffle – maybe try writing your name on it!
16. Wedding Signage
Wedding signage can be both useful and humorous, but don't forget it can add some personal charm to your big day. Add little notes, quotes and directions around your venue to really create a lovely custom atmosphere. This is one of our favourite activities to do with your loved one at home – you could even get creative and draw your flowers, venue, theme or table plan on a chalkboard to show your guests on the big day.
17. Wedding#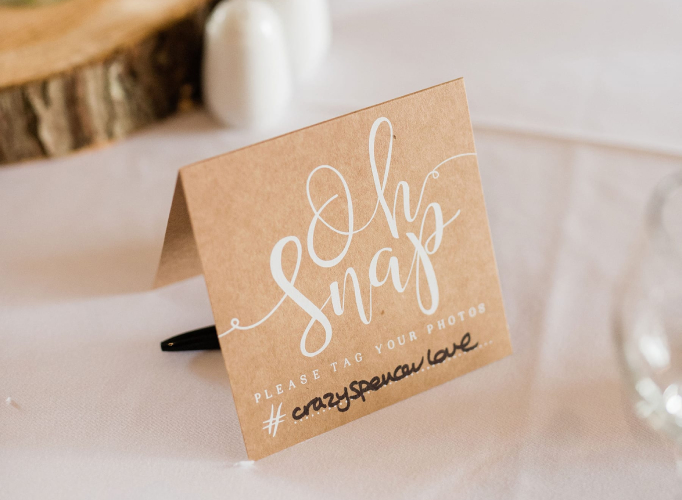 Everything is Instagram worthy now, so why not set up your own wedding #? This can be useful for seeing and sharing all the photos your friends and family have taken during your wedding. This is especially useful if you're having a large wedding, as it allows guests to take and share all the pictures in one place for everyone to find once the wedding is over.
18. Newlyweds Address Book
Ask everyone in the guest book to fill in their names and addresses on address cards so you can start married life with your nearest and dearest all in one box. This is also lovely for sending out thank you cards as well as any photos you might take when you get married!
19. Let Your Love Glow
Celebrating your wedding evening with sparklers for all the guests to have fun with. They also create opportunity for the most beautiful wedding photos, too. It's perfect for winter weddings where the nights draw in earlier.