Sink into serenity here at Seckford Hall Hotel & Spa in Suffolk, as you relax and unwind into all the wonder our Spa and treatments have to offer.
The Spa has undergone a luxury makeover, with utter bliss in mind, to ensure only the best facilities, treatments and products are available for you to delve into your all-important self care journey.
Our Spa team have expertly crafted treatments for you to tap into that inner wellness, soothe your senses and restore calm into your busy life. Using only the best, world-renowned and botanically sourced products from the likes of ESPA & Natural Spa Factory.
Nothing says relaxation quite like Spa days in the Suffolk countryside. Seckford Hall oozes delight and Tudor charm, uniquely combining comfort and luxury for the ultimate getaway. Slumber sweet dreams and serene Spa facilities go hand in hand, and that is just what you will get here at Seckford Hall in Suffolk.
Let's peak into exactly what Seckford Hall Spa offers with the following treatments:
(with some positive affirmations along the way)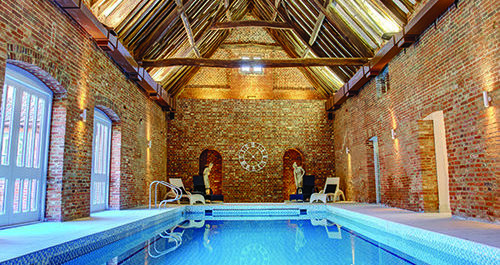 My tensions are melting away
Relieve all your tensions and bring balance back into your soul as we wipe away your worries with a Massage. Arguably the most important, and favourite of all Spa treatments.
Indulge in a Indian Head Massage, deeply powerful in it's abilities to stimulate the senses and relax your mind. Maybe a back and neck massage?
Introduce yourself to the magic that is a Lava Shell Massage! Relax as the heat retaining, hot shells grace your body and the oils nourish deep into your skin.
I am letting go of today's stress
Stress release with the best of the best. ESPA.
Restore and nourish holistically with our indulgent collection of ESPA treatments. These world-renowned products pair perfectly with indulgent facials, high performance body massage, and signature rituals all awaiting you.
From facials and massages to foot treatments and body scrubs, you can be sure to leave our spa feeling light as a feather and revitalised, ready to explore Suffolk and everything Seckford Hall has to offer.
My thoughts are calming down
Calm your mind, body and soul with one of our five ultimate treatments, from Body Boost to The Golden Hour.
Using Natural Spa Factory's botanically sourced products, which are derived by nature, like herbs, plants and flowers. Aligning you to be at one with the world, all while nurturing your skin and calming your body.
I am calm and centered
Top of your spa day and treat yourself to a set of perfectly preened nails, or get glammed up by one of our MUA's. Again, using only the best of the best, transform your nails, and face with Mii's nourishing treatments.
Fly by, Treat & Indulge are the three tiers of application for manicures and pedicures, tailored to your exact needs. Our professionals will ensure an immaculate finish, every time.
Clean active ingredients, restorative oils and multi-vitamins acts as the base of our Mii makeup products, giving your inner glow, on the outside too!
I am one of a kind
Seckford Hall Spa offers the ultimate spa experiences. Take a dip in the pool, have a serene facial, leisure in the spa lounge book a body scrub or entirely pamper yourself with an array of beauty treatments and spa facilities. Why not enjoy a scrumptious afternoon tea? Add this on your booking and stay here at Seckford Hall.
Tap into your inner wellness guru, relax and unwind at one of Suffolk's best spas, a true haven to cater to your every need.
(and finally, repeat after me) I am in need of a Spa Break at Seckford Hall
To view our full range of spa treatments and prices – download our Seckford Hall Spa Brochure.
Is a special occasion coming up? Why not gift that all important person a pampering of their dreams with one of our Spa gift vouchers.
Or check out our website to delve further into confirming a Spa day at this historic hotel is exactly what you need! Visit www.seckford.co.uk/spa or arrange a booking and contact us at [email protected]
We can't wait to welcome you.