Planning your dream wedding is an exciting journey, but it can also feel a little overwhelming at times. Seckford Hall is a beautiful Tudor mansion nestled in the heart of Suffolk and offers a picturesque setting for your special day. We are here to assist you through the wedding planning process and help make your day the wedding of your dreams!
Many couples choose to plan their wedding over a year or so. However nowadays, it is a lot simpler and easier to get married in only a few months. Booking a last-minute wedding can be a lot more cost-effective, saving you hundreds if not thousands of pounds.
There are other benefits such as easily being able to invite guests through a wedding website, saving time for you and your guests to respond, hiring wedding dresses to save money, and choosing a wedding venue such as Seckford Hall which has everything on-site to make your wedding planning journey seamless.
From in-house decorations and chefs who are willing to create bespoke menus, to 42 onsite bedrooms, advice from recommended suppliers, and an experienced wedding planner to help you, you will definitely be well on your way to planning a lot of your wedding under one roof!
If you want to plan a wedding and are debating whether it is possible to do it in 6 or fewer months, we can assure you that as long as you are flexible and decisive, it is possible for sure!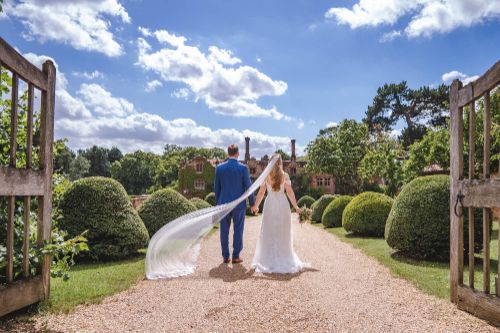 Take a look at our wedding planning checklist to give you an idea on what to expect:
6 Months Before the Wedding:
Determine your wedding budget and decide how much you would like to spend for different aspects of the wedding e.g., on food, your wedding outfits, and venue.
Create a guest list of the people you would like to invite to your wedding.
Find a wedding venue that you could imagine getting married at. Make sure to consider both indoor and outdoor ceremony options.
Choose a wedding date and time for your wedding considering the wedding venues availability. Perhaps consider a weekday or Sunday, as there may be more availability in finding wedding suppliers too.
Find an officiant who is available and willing to perform your wedding ceremony on your selected date. Perhaps you are looking to have a legal ceremony, and choose to book a registrar, or a celebrant instead.
Decide on your wedding vision, wedding style and colour themes, before securing your wedding suppliers. Such as your wedding photographer, videographer, cake maker and florist.
5 Months Before the Wedding:
Start shopping for your wedding dress, groom's outfit, and wedding accessories. Look for boutiques or bridal shops that offer expedited services or choose to hire a wedding dress for ease.
Send out digital save the dates or wedding invitations or create a wedding website with RSVP options for wedding guests. This is especially useful for a last-minute wedding.
Work with your officiant to create the ceremony script and choose any readings or rituals you'd like to include.
Purchase or order your wedding rings to ensure they arrive on time for the big day.
4 MONTHS BEFORE THE WEDDING
Confirm all arrangements with your venue and suppliers. Discuss logistics, timelines, and any specific requirements you have for your wedding day.
Apply for a marriage license and ensure you have all the necessary documents.
Research and book your honeymoon, prioritising flights if you are planning on going abroad to avoid any disappointment.
Start looking at outfits for your groomsmen's and bridal party, making sure they match with your wedding theme for the day.
2-3 Months Before the Wedding
Have a wedding rehearsal with your wedding party and officiant to go over ceremony details and logistics.
Confirm the final guest count with the venue to ensure proper food and seating arrangements.
Order the little extras including your table plan, seating plan and wedding favours.
1 Month Before the Wedding
Pack your wedding outfits and essential items for the wedding day. Verify that you have everything you need, including rings, the marriage license, and any special decor or personal items.
Reconfirm all arrangements with your suppliers, including delivery times, setup and collection times.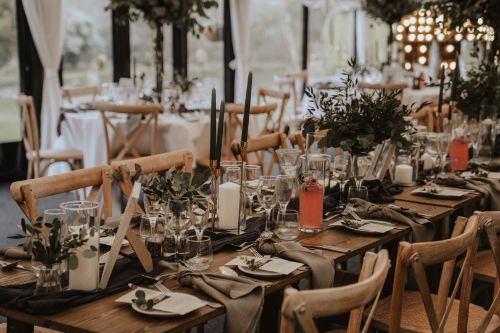 Every couple's wedding planning journey is different, some couples prefer to have a short engagement and plan their wedding in under a year – perhaps only 3-6 months, whereas others choose to take a longer engagement and plan anywhere between 12 months to 5+ years! The choice is completely yours and you can take as long or little as you wish.
The Seckford Hall wedding team acts as your wedding planner to give you expert advice with recommended wedding suppliers and to help plan your wedding day. We are also here to help support you with the finer details to bring your wedding styles and themes together, including decorations for your big day.
Whatever your lead time is, whether you are looking for your wedding to take place within the next six months to a year's time, start your wedding planning journey today with Seckford Hall.
If you would like more information, please contact the team at [email protected] for more information and to book your private tour!